Experts note that the novel coronavirus (COVID-19), the flu, and allergies have different symptoms. The main symptoms of the novel coronavirus are fever, tiredness, dry cough, and shortness of breath.
The CDC recommends that all people should wear cloth face masks in public places where it's difficult to maintain a 6-foot distance from others. This will help slow the spread of the virus from people without symptoms or people who do not know they have contracted the virus. Cloth face masks should be worn while continuing to practice social distancing. Instructions for wearing masks can be found here
If you have a runny nose or itchy eyes, it doesn't mean you have the novel coronavirus. However, if you have a dry cough, fatigue, and a fever, you might have COVID-19. Then again, it could also be seasonal flu.
There are many symptoms of cold, flu, and COVID that are similar, and it may be difficult to distinguish. They're all caused by viruses, but different viruses cause each of these infections.
However, one key difference between the three is a symptom of coronavirus is shortness of breath. Shortness of breath is a common sign of COVID-19 which occurs prior to the development of pneumonia. With COVID-19, shortness of breath often occurs 5 to 10 days after the first sign of fever.
Generally, the flu or a cold does not cause shortness of breath unless it has progressed to pneumonia, in which case you'll also want to contact your healthcare provider.
Sneezing isn't a symptom
Sneezing, runny nose, facial pain, postnasal drip, and itchy eyes are common symptoms of allergies or the common cold. But they're not typical of COVID-19.
"The most common symptoms of COVID-19 are fever, tiredness, and dry cough," according to the World Health Organization (WHO). "Some patients may have aches and pains, nasal congestion, runny nose, sore throat, or diarrhea."
COVID-19 symptoms usually appear 2 to 14 days after exposure. However, "Some people become infected but don't develop any symptoms and don't feel unwell," according to the WHO. These people can still transmit the virus to those around them, even if they don't feel ill.
Allergies have chronic symptoms
COVID-19, like the flu or common cold, is an acute illness, meaning people feel fine until symptoms start showing up.
Allergies, on the other hand, are usually chronic, presenting with symptoms off and on for weeks, months, or even years. Experts also noted that, in most parts of the country, it's not allergy season yet.
Allergies also may cause wheezing, especially in people with asthma. Allergy symptoms tend to vary with the environment: worsening with exposure to dust, pollen, or animal dander, whereas cold symptoms tend to persist regardless of time of day, weather, locality, or other environmental factors.
Also, as with COVID-19, colds are more likely to have generalized symptoms like fever, headache, and body aches, whereas allergies usually affect only the respiratory tract. Allergy symptoms tend to improve with antihistamine and other allergy-specific medication. Colds are more likely to respond to decongestants, acetaminophen, fluids, and rest.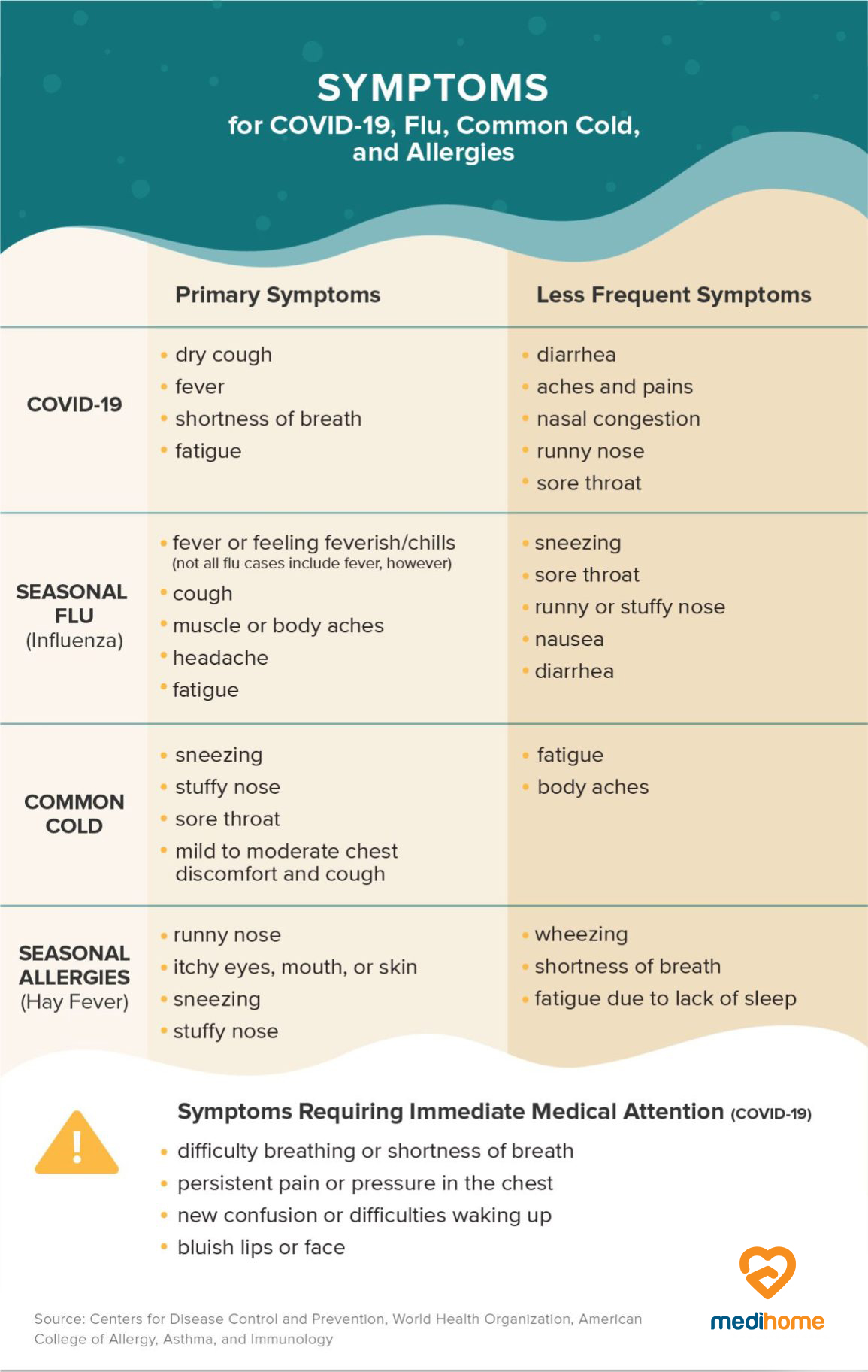 Despite symptoms, it's not the flu
COVID-19 is not the flu. As one of a class of pathogens known as coronaviruses, it's actually more closely related to the common cold than the seasonal flu.
However, despite some overlap, the typical symptoms of COVID-19 are more similar to the flu (fever, cough, sore throat, runny or stuffy nose, muscle or body aches, headaches, fatigue) than the common cold (runny or stuffy nose, sore throat, cough, congestion, slight body aches, mild headache, sneezing, low-grade fever, malaise).
If you have a mild case of COVID-19, the flu, or a cold, treatment is geared toward management of symptoms.
Cases can be life threatening
Mild cases of COVID-19 are thought to last approximately 2 weeks. Almost nobody dies of the common cold. And most seasonal allergies are more annoying than dangerous.
COVID-19 has the potential to cause even more fatalities because it's easily transmitted, the population lacks any immunity to the disease, and complications in serious cases may include life threatening pneumonia.
If you're feeling sick or you think you have been exposed to COVID-19, you should self-quarantine for at least 2 weeks to prevent further spread of the disease, according to the Centers for Disease Control and Prevention (CDC).
Severe symptoms of COVID-19 that require immediate medical attention include difficulty breathing, persistent pain or pressure in the chest, confusion or inability to arouse, or bluish lips or face, the latter indicating a shortage of oxygen in the bloodstream, according to the CDC.
"Around one out of every six people who gets COVID-19 becomes seriously ill and develops difficulty breathing," the WHO said. "Older people and those with underlying medical problems like high blood pressure, heart problems, or diabetes, are more likely to develop serious illness."
Do you have symptoms of COVID-19? Your options for care
Call your primary care provider and discuss symptoms before visiting a healthcare facility, or book online video doctors visit/telehealth consultations through mobile app Medihome or call healthline 19009204 in Vietnam.
Medihome is one of the best-known telehealth providers that allows patients to receive medical advice and instructions at home by providing them with a platform to connect with real doctors.
Users can make health-related inquiries, look up medications, and search for the nearest clinics and pharmacies at the comfort of their own home.
For patients who prefer to see their doctor in person, Dr.Binh Tele_Clinic is always open and continue to welcome patients for their appointments. The health care organization is closely monitoring COVID-19 and is following guidance from the Center for Disease Control and Prevention, and World Health Organization, MOH of Vietnam in the care of patients.
Source: Healthline