Telehealth facilitates offer care from a distance through electronic information systems, specially during Covid-19 outbreak. Today, almost anyone with a smartphone or laptop computer can access telehealth services.
Telemedicine originally delivered care through the telephone system, such as a Dial-a-Nurse line. Today, telehealth encompasses a broad range of electronic delivery systems that include live video chats, mobile health (also called mhealth) apps, online visits, and secure messaging via text or email.
During the current COVID-19 outbreak, many healthcare providers are discouraging people from traveling to a medical office or urgent care facility unless absolutely necessary, since the novel coronavirus transfers easily from person to person. For mild to moderate symptoms of COVID-19 or any illness, telehealth services might represent a better, more efficient way to receive initial care.
When Should You Consider Using Telehealth?
Many less-severe symptoms in adults and children—whether related to COVID-19 or not—can be effectively assessed through an initial telehealth visit. These symptoms and conditions include:
Canker sores, cold sores, and other mouth lesions
Chickenpox (varicella zoster virus)
Conjunctivitis ("pink eye")
Common cold, flu, and allergy symptoms
Constipation or diarrhea
Coughing
Fever
Headaches, including migraine
Heartburn and gastroesophageal reflux disease (GERD)
Insect bites
Minor injuries, such as sprains
Painful urination
Rashes and other skin conditions
Sinus pain and pressure
Sore throat
Sometimes the healthcare professional conducting the virtual visit can diagnose and treat the condition based on their interview with you and the visual signs of your illness. Many times, however, a virtual visit becomes a triage tool that enables the healthcare provider to direct you to a particular course of action:
Come into the office
Head to an urgent care center
Go to an emergency room
Proceed to an outpatient X-ray facility or laboratory
When it comes to COVID-19, telehealth offers a way for your doctor to evaluate your symptoms without potentially exposing a waiting room full of people to the virus. If your practitioner suspects you may be infected with the novel coronavirus, he or she can direct you to a testing facility and provide instructions for follow-up care.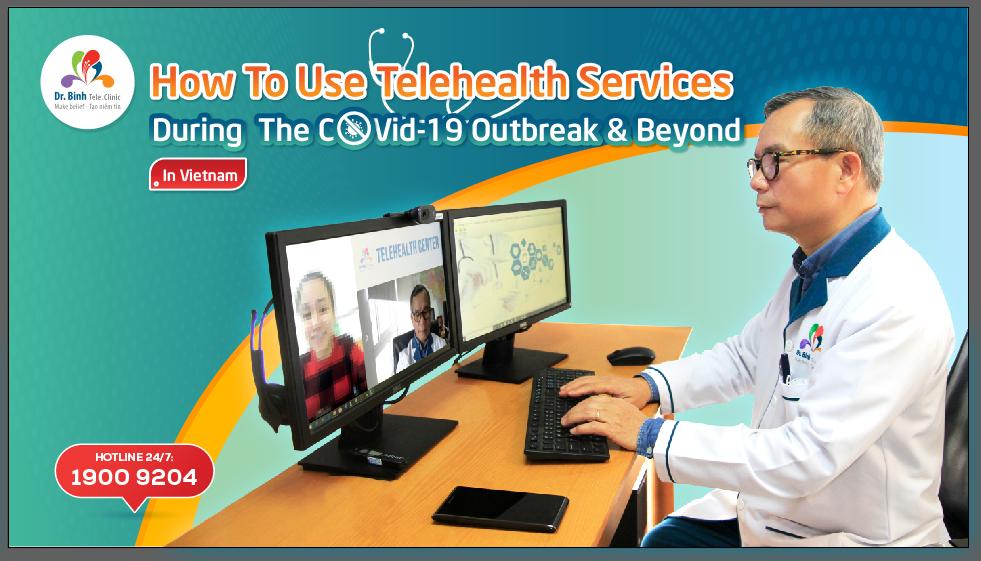 Specific to COVID-19, people in a high-risk group (immunocompromised, elderly, or pregnant) should skip the virtual visit and phone their doctor's office for instructions on how to proceed if they develop a fever, cough, and shortness of breath—the three classic signs of an infection with COVID-19.
Even people considered low-risk should call for emergency medical assistance if they believe they might be infected with the novel coronavirus and also exhibit these additional symptoms:
Chest pain or pressure
Confusion, delirium, or difficulty arousing the person from sleep
Severe shortness of breath or difficulty breathing
Turning blue around the lips
Beyond COVID-19, any person experiencing serious or potentially life-threatening symptoms should call 911 for emergency medical assistance rather than try to utilize telehealth. A few such signs and symptoms include:
Chest pain or other signs of a heart attack
Difficulty breathing
Seizures
One-sided weakness, facial drooping, or other signs of stroke
Suspected broken bones
Unexplained change in mental status, such as fainting or becoming delirious
Feelings of fear, anxiety, sadness, and uncertainty are normal during the COVID-19 pandemic. Telehealth can also provide the ability to help you care for your mental health while at home. Learn about the best online therapy options available to you.
Can Prescriptions Be Refilled by Telehealth?
Depending on the situation and state prescribing laws, a healthcare provider may be able to issue new prescriptions or refill existing ones during a virtual visit. Not all types of drugs will be eligible for this service, even if your provider offers it.
How to use Telehealth service in Vietnam
Although the COVID-19 outbreak may be driving the mass adoption of telehealth and virtual visits today, the accessibility of telemedicine makes it a convenient option to use all the time for mild to moderate symptoms. Why take a half-day off work to drive to a doctor's clinic and sit in a waiting room full of sniffling patients when you can simply dial up a doctor on your smartphone, tablet, or laptop to receive care in the comfort of your own home or office?
Because of its convenience, accessibility, and—for many people—affordability, telehealth may well represent the future of healthcare delivery for adults and children in the post-coronavirus world.
Medihome is one of the best-known telehealth providers that allows patients to receive medical advice and instructions at home by providing them with a platform to connect with real doctors.
Users can make health-related inquiries, look up medications, and search for the nearest clinics and pharmacies at the comfort of their own home. Apart from typed-in questions, Medihome also allows users to contact available doctors via phone calls for a better diagnosis of their condition.
Medihome offers live video visits and medical aid in most common medicine subspecialties, including obstetrics, gynecology, oncology, urology, cardiology, gastroenterology, pulmonology, endocrinology, nutrition, pediatrics and andrology. The app is available for download for iOS and Android users.
Patients can access telehealth appointments with doctors or caregiver in two ways: booking online on Medihome app or through call center 19009204. Patient telehealth appointments will be scheduled through their doctor's office.
 "Telehealth appointments will provide peace of mind for patients," said Dr. Vu Quoc Binh – President of Dr.Binh Tele_Clinic. "In this new age we are living in, we are working hard to make access to care as easy and safe as possible for our patients."
For patients who prefer to see their doctor in person, Dr.Binh Tele_Clinic is always open and continue to welcome patients for their appointments. The health care organization is closely monitoring COVID-19 and is following guidance from the Center for Disease Control and Prevention, and World Health Organization, MOH of Vietnam in the care of patients.